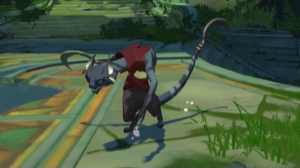 Kajir, also known as "Shadow", "Pirate Cat" and "Jherico", is an unreleased hero for Gigantic.
This hero, under code name "Shadow", was mentioned numerous times in game's text file with common hero upgrades (such as "Acrobatics", "Will to Power", etc).
In March 2018 modeler and concept artist Katy Hargrove posted images and a model of unknown character titled "Pirate Cat".[1] Later a screenshot of his early and final concept arts was leaked, followed by leaked skin concept art titled "Shadow Cosmetics" (all concept arts by Devon Cady-Lee).
There were speculations on Kajir being the "Wildcat" due latter's placeholder portrait from game files using head silhouette of "Pirate Cat", but later they were stated to be different characters.[2]
In July 2018 Kajir's concept arts and gameplay (in one of the recent core test builds of the game) were shown at Farewell Stream.[3] He was an Assassin type hero, with maximum "Offense" and "Utility" stats (see: Media).
In much older (dated to 2016) core test build, leaked not long before the stream, Kajir uses Knossos' set of animations with his own prototype model. Later, in the middle of August, was leaked another core build, supposedly dated after game's post-release August 2017 update: here Kajir already uses his own model, but some of his animations aren't finished and he doesn't have skins and voice lines.
Kajir was planned to be released with sky pirate themed update.
Abilities
Edit
Descriptions of upgrades are taken from leaked core test build, dated to 2016.
Descriptions of talents are taken from leaked core test build, dated to 2016.
Projectile Speed
[RMB/LT] travels faster.
Charge Faster
[Q/LB] charges faster.
Staying in the Shadows
[E/RB]: Increased health on

SHIELD

Absorbs 85% of all incoming DAMAGE for the duration of the shield, or until the shield is destroyed (if it has a HP value).shield. (+100)
Scraped talents, which were part of older talent system:
Crit Chance
[LMB/RT] builds

CRITICAL HITS

Every Hero's crit chance defaults to 0.01%. Landing hits with primary attack will increase crit chance up to a maximum of 100%. Primary attacks are the only attacks that build and benefit from crit damage, though certain upgrades will allow some secondary skills to help build or modify your crit chance.
Failing to land hits with primary attack will cause crit chance to rapidly decay back to its default value.crit chance much faster against enemies with above 50%

HEALTH

A special resource that represents hero's (or creature's) life pool, and is a measure of how long he able to remain in the fight.
The amount of health is varying between characters. One segment of green bar represents 500 health, additional to it resources are TEMPORARY HEALTH (dark green) and SHIELD (light green).
Taking DAMAGE and using of some of the skills reduces health. Health can be regenerated by various sources, characters OUT OF COMBAT slowly regenerate their health by themselves.
When health bar reaches 0, hero is defeated and returns to the Airship, while creature just dies.health.
Focus Gain
Gain +20%

FOCUS

A special resource that is accumulated and stored throughout every match, and can be used to unleash a FOCUS ABILITY, or upgrade young creatures to powerful adults.
Focus requires to build up FOCUS CHARGES (maximum 3) before it can be used. They can be accumulated by dealing damage to enemies, healing allies, taking damage, and sometimes after being defeated and sent to the Airship.Focus from all attacks.
According to concept artist Devon Cady-Lee, "Jherico [this name is used by art team members] was a crook, an assassin and an ex-skypirate rolled into one," who "stole a magic talisman from a Moon temple once, that he later discovered gave him invisibilty and power over shadow", "participates in the fights to gain fortune and nothing else" and "would probably just retire on an island somewhere."[4]
At Farewell Stream were shown his common (base model) skins, but they all share same lore note, which refers to Kajir's stealth abilities:[3]
"I never seen anything, like literally haven't seen anything."
– Bystander
In text files of leaked 2017 core build can be found other planned variants of name for this hero: Bakari, Khamun, Khamir, Jhenner, Khemba.
Screenshots
Edit
Concept arts
Edit
Artist – Devon Cady-Lee
Miscellaneous
Edit
References
Edit