Pakko is a playable hero in Gigantic.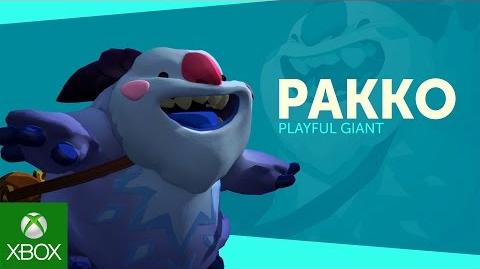 Abilities
Edit
Abilities
LMB

Frosty Swipes

Melee attack combo.
Defensive Swings,Cold Kit Combo
Cold and Frail, Cold Remedy, Extra Sauce, Ice Breaker

RMB

Snowball Toss

Throw snowball which explodes and traps enemies in ice (Stun + Freeze). HOLD [RMB] to charge.
Stick It To 'Em, Size Matters
Shattered, Ice Ball,Let's Chill Together,Group Benefits

Q

Slip And Slide

HOLD [Q] to slide on the ground. Tap [Q] again: Melee hit, freezes and pushes enemies.
Safety First, Belly Flop
Stay Healthy,Uninhibited, Forceful Impact, Play Nice

E

Frost Path

Create a path of ice directly in front of you. Enemies on the path are frozen, allies are hasted.
Extended Path,Frostbite
Path of Quickness,Frosty Trails,Redistribution of Health, Frosted Over

F

Snow Fort

Create an AOE that freezes enemies. While inside: you heal over time and [LMB] throws snowballs. (6s/8s/10s)
Safe at Home,Resurgence
Ad blocker interference detected!
Wikia is a free-to-use site that makes money from advertising. We have a modified experience for viewers using ad blockers

Wikia is not accessible if you've made further modifications. Remove the custom ad blocker rule(s) and the page will load as expected.