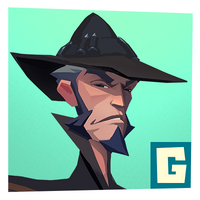 Roland was a playable Hero in Gigantic during early Alpha phase.
"The Bounty Hunter" was a ranged hero, armed with shotgun and gadgets. He was one of the first heroes to be revealed, debuting in the Pre-Alpha, but was then removed from the game for a rework.[1]
After official release of the game, developers and testers mentioned that beside new skill set Roland also got a new model, including art teasers for April Fools.[2]
Abilities
Edit
Lore notes
Edit
"Firing the first shot is good, but firing the last shot is even better."
The Adventurer VI:

He was relentless. If Beckett ever stayed too long in one place, she knew the bounty hunter would find her.
The bounty hunter didn't care if she was guilty. He had a job to do, and he was going to do it.

The Ruffian V:

"Ramsay isn't at the top of my bounty list... but he's pretty close." – Roland
In game files
Edit
Roland's code name in game files is "Gunner". In text file can be found placeholders for his Fortune Cards (missing 6th card), titled as "The Bounty Hunter", and skins, with a single placeholder lore description:
"You can run if you want. Won't make a difference." – Roland
There are also 2 upgrades descriptions:
Renewed Focus: On use, reduces all skill cooldowns by 7 seconds.
Resurgence: On use, you regain

STAMINA

A special resource that allows player to sprint, dodge, jump, and utilize powerful dodge and sprint attacks.
While SPRINT and JUMPS consume stamina when player is IN COMBAT, DODGE always cost 25 stamina (one segment of blue bar).
Heroes OUT OF COMBAT slowly regenerate their stamina when they don't move actively.stamina.
Screenshots
Development
Miscellaneous
References
Edit
↑ 2.0 2.1 2.2 DrRabbito1 comments on Any of you remember Roland, any info or screenshots of his updates? (Reddit)