Today marks the day the Gigantic Wiki reaches its first complete year of existence (and that the game was announced)!
To celebrate, we contacted Motiga to help us out on creating a giveaway that everyone could enjoy and participate, and they agreed and collaborated with us to bring you our first giveaway, to celebrate this big date for us and for the game itself.
Here are some questions and answers you might have about the giveaway.
Cut to it, what are the prizes? And how many winners can there be?
I know this is more important that the rest, so let's get to it right away!
There are going to be three winners, and each of the winners is going to win the following:
A black Motiga shirt, a blue Gigantic shirt, Motiga pen, a Motiga tumbler, Motiga drawstring backpack, Gigantic yowie, Gigantic Hero stickers and a Motiga/Gigantic lanyard.
Here's a picture of all the things: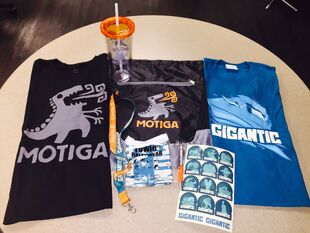 How do I enter this giveaway?
To enter the giveaway, all you have to do is write a small text (minimum is 30 words) on your idea for a map you'd like to see in Gigantic, what would it look like? How would it play?
You may even include a snazzy picture you found on the internet to go along with it if you want. All the texts that have 30 words or more automatically enter the giveaway, anything below that is invalid.
You can enter your text through:
The comment section of this blog post
The post on the Gigantic subreddit (reddit.com/r/gigantic)
Messaging me on Twitter with your text to @BlizzKrut
Commentating on my page on the Wiki.
What's the deadline to enter?
All entries must be sent/shown until the 22nd of this month (July 2015), any entries past that will be ignored.
When will I know who won the contest?
The winners will be announced at the end of the month, they will be published here, on Twitter and on the subreddit.
I won the contest, can I pick my shirt size? Can I send you the details on where to send the Motiga swag?
Once you win the contest, I'll contact you, and all three parties (you, we and Motiga) will sort out all the details, and yes, you'll be able to pick your shirt size :)
I have a question that isn't here, how can I contact you?
Send me your question(s) through my twitter (@BlizzKrut) or by posting on my page here on the Wiki.
To end this post, big thanks to Motiga (and especially for Troy and Chris to work this out with us) and to the community overall, we hope you have a gigantic day and good luck with the contest!
Ad blocker interference detected!
Wikia is a free-to-use site that makes money from advertising. We have a modified experience for viewers using ad blockers

Wikia is not accessible if you've made further modifications. Remove the custom ad blocker rule(s) and the page will load as expected.